Well folks, It's that time of year when we dust off our costumes, watch our favourite Halloween movies and pretend we're young enough to still go trick or treating... However, these days it seems our Halloweens are now spent standing in a bar awaiting a zombie apocalypse. (That's a cocktail by the way.)
In the spirit (pun intended... sorry not sorry) we've had a look back through the deep, dark crypt that is the internet's archive and dug out a few of our favourite marketing spooks.
1. M&M's "Dark Movie Challenge" (2006)
Ten years ago, M&M's hit us with a little gamification centred around an illustration where viewers had to identify visual riddles and references to iconic horror films. M&M's tied in their branding with the use of its characters within the imagery, as well as using the content as a teaser for the lead up to M&M's launch of their dark chocolate product line.
If you never saw it, you missed out. The hours I spent sweating against the clock battling my friends, were endless. But don't worry, you can still play the game '50 Dark Movies Hidden in a Painting' here. Why don't you challenge a colleague right now?
2. Jurassic World 'Mosasurus' PR Stunt (2015)
The anticipation for the release of Jurassic World was nail biting. Were they going to ruin our childhood terrors? Would too much revolutionary CGI take away from the original Goliaths that had us weary of public toilets for years? It didn't, of course (thank God) but their PR efforts didn't disappoint either with the release of their 'Jurassic World' DVD.
A life-sized Mosasaurus was unveiled on London's South Bank as a stunt to mark the release of the DVD in homage to the epic scene in the film. An effective reminder for all who'd seen the film to go out and purchase the DVD. Not to mention the questioning general public that hadn't!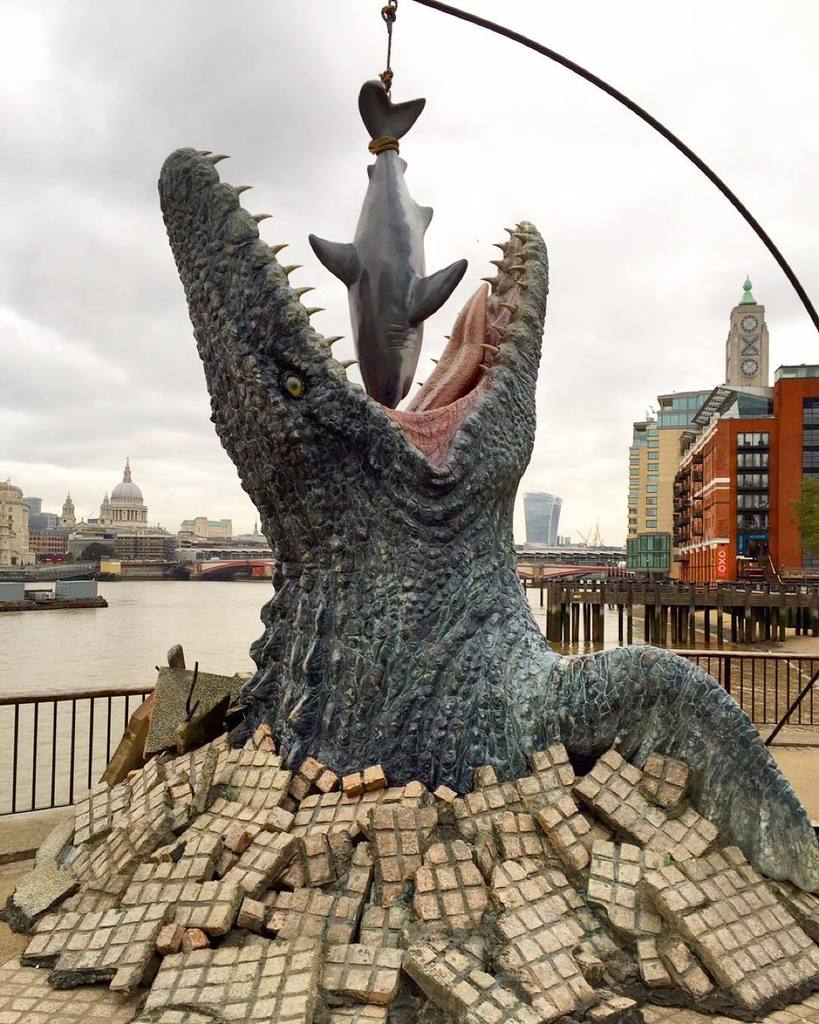 Thanks to @EntertainmenTwt for posting
3. LG "So Real It's Scary" (2012)
Launching a new product can sometimes be dry and a little too corporate especially when it comes to trying to hook consumers. However, LG took it to a completely new level with a demo video of their monitors to show exactly how good the quality of their displays were. A grid of screens were used in the floor of a public lift and the riders' responses were filmed as the ground disappeared below their feet. 
The video has so far received over 26 million views since it was uploaded on YouTube.
 4.  Candy Kittens' "Scariest Vending Machine in London this Halloween" (2015)
Candy Kittens dropped a vending machine in Shoreditch, London and proceeded to scare passers-by as they helped themselves to some free treats. The branding used on the vending machine was a ploy to have people take the offer of free sweets, 'if they dared'. However, those that did indeed dare to delve into the free treats were unsuspectingly met with a chilling surprise...
5. AirBnB "Night At Dracula's Castle in Transylvania" (2016)
Now this wasn't a stunt – this was a genuine contest to stay at Dracula's Castle with the host, Dacre Stoker, the great grandnephew of Bram Stoker, author of the legendary Dracula novel. The stay will include a horse-drawn carriage to the Castle, a tour of 57 rooms, a meal for two topped off by a chilling night's sleep in two luxurious velvet-trimmed coffins in the seclusion of the Count's crypt. 
But the question is, will the (un)lucky couple be faced with the blood-sucking Count himself? 
Thinking about tying in a little marketing with a seasonal event or national celebration of your own? Why not get in touch and see how we can help...
What's your best Halloween marketing stunt so far this year? Tweet us at @bcsAgency